Even before 2015 brought us surprise publishing announcements like a sequel to To Kill A Mockingbird and 50 Shades of Grey from Christian's point of view, it was always going to be a massive year for books. Every person and YouTube released a book and books with mostly blank pages inspired creativity and reduced stress levels all over the country. Will 2016 be as big? I think so, and I'm going to break down the publishing year ahead month-by-month to tell you why.
Side note: I'll be linking through to Goodreads as much as possible so you can mark books that excite you as 'Want to read' should you so desire. Where Goodreads pages aren't available, I'll link through to the Australian publisher's website. Publication months are subject to change, and I'll update this post if I'm made aware of any amendments. I'll also mention the Australian publisher wherever possible; however, a handful of these books don't yet have confirmed Australian distribution or publication dates. It is the first working week of the year, though, so I'll cut the publishers some slack… for now.
January
The first month of the year is usually fairly quiet on the publishing front. More books get published in the last three months of the year, generally, than the nine months that come before, and January is a good month for publishers and booksellers alike to catch their collective breath. January 2016 has some bite to it, though, and that pun is totally intended to help describe Who's Afraid? by Maria Lewis, which is released mid-January from Hachette. It's a debut novel about an ordinary woman who discover's she's a werewolf, and I'm reading it at the moment. It's been a great deal of fun so far. Last year Marie Kondo introduced us to the life-changing magic of tidying, but this year is all about the life-changing magic of not giving a f**k, courtesy of New York-based editor turned author Sarah Knight. Fun fact: Sarah actually edited my favourite Gillian Flynn novel, Dark Places. Sticking with the non-fiction theme, Marian Keyes has a new book out called Making It Up As I Go Along, and never has there been a book title that so aptly sums up my entire approach to life thus far. If this is even half as heartfelt and hilarious as her fiction, I'm sure it will be well worth the read. Finally, the #LoveOzYA movement kicks off what looks to be a strong year with Lady Helen and the Dark Days Club, which is actually out now from HarperCollins and has a stunning cover treatment that should not be missed.
February
I'm not paleo or gluten-free or outrageously lactose intolerant (only slightly) or anything like that, but I do try to eat as well as possible, and one of the most-used cookbooks in my kitchen is The Happy Cookbook by Lola Berry. So, naturally I'm excited for The Happy Life, which is coming from Pan Macmillan in February. Another health/wellness book coming in February from Penguin Random House (PRH) that I'm looking forward to is Radical Self Love by one of my favourite bloggers, Gala Darling. I've been following her blog for what feels like forever and I think this book will be particularly useful for me since there are still more days where I dislike myself than days where I don't. Joy. Finally, if you're a fan of YouTube celebrities, Grace Helbig has a second book coming out called Grace & Style: The Art of Pretending You Have It from Simon & Schuster. Grace is one of the only YouTube stars I can handle for more than five seconds, and I think this will be a perfect blend of funny and informative. More the former than the latter though, no doubt.
There's a stack of excellent YA coming in February, and while I don't know if I'll get around to reading all of them, if I could read them all these are the ones I would pick. There's My Sister Rosa by Justine Larbalestier and Summer Skin by Kirsty Eagar, which are both published by Allen & Unwin. While about vastly different things (a psychological YA thriller and a sizzling feminist love story, respectively), they both sound like they could get quite heavy and I will be making the time to read them both soon. Yellow by Megan Jacobsen (PRH) has been described as a YA murder mystery with a slight supernatural edge, so I'm 100% there already. I'm also keen to start Passenger Alexandra Bracken. I'm a Bracken fan and if anyone can do YA time travel well, it's her. Leanne Hall of This is Shyness has a new novel Iris and the Tiger coming from PRH, and while it's not set in the Shyness world, Leanne is a magnificent writer so I'm sure this will be brilliant.
Moving to adult fiction, The Queen of the Night by Alexander Chee doesn't have an Australian publisher yet from what I can see, but it's a historical mystery set at the Paris Opera and it sounds dark and magical and wonderful. Yann Martel, who won the Man Booker Prize back in 2002 for the remarkable Life of Pi, is back with The High Mountains of Portugal, also from PRH who are going to have a huge February. A central character in High Mountains is a pathologist devoted to the murder mysteries of Agatha Christie, so I am counting down the seconds until I can read it. Meg Rosoff's first adult novel is coming from Bloomsbury, called Jonathan Unleashed. It's a contemporary romantic comedy set in Manhattan, and I don't think the world could ever have enough of those. Finally, Hachette is bringing us Sophie Hannah's latest thriller, The Narrow Bed. It's about a serial killer who murders pairs of best friends, and if you know me even remotely well you'll know that I'll definitely be reading this one.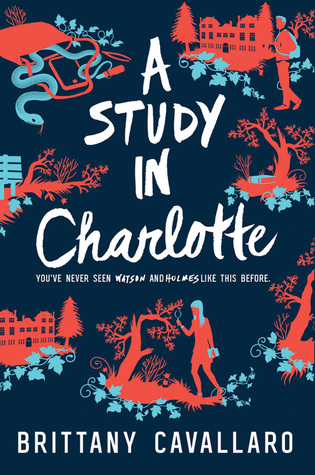 March
Most importantly, how beautiful is this cover design?! Seriously though, this book. The two main characters are… wait for it… the great-great-grandson of John Watson and the great-great-granddaughter of Sherlock Holmes. Holy. Shit. There's no Australian publisher for this yet, but I hope that will change. I don't read as much YA as I used to so I have no idea why so many are gripping me for 2016, but let's roll with it. Truthwitch by Susan Dennard (Pan Macmillan) has a main character that can discern truth from lies, which sounds like an interesting trait for a protagonist to have. I loved We All Looked Up by Tommy Wallach last year, and his next book (not a sequel) Thanks for the Trouble is coming from Simon & Schuster.
13 Ways of Looking at a Fat Girl by Mona Awad (PRH) sounds brilliant, hilarious, and incredibly important. When the Sky Fell Apart (also PRH) by Caroline Lea is a historical literary fiction novel that sounds beautiful. The Midnight Watch (a third PRH that I didn't mean to group together) by David Dyer is a story of The Titanic, but not the story we know well. It's the story of The Californian, the ship that could have prevented one of the most tragic nautical catastrophes in history. China Miéville has a new novella called This Census-Taker (Pan Macmillan) about a remote house that is visited by a stranger with meticulous record-keeping skills. Finally in fiction, Maestra (Allen & Unwin) is a debut novel that has been described as a blend of Fifty Shades of Grey and Gone Girl, and is being touted as one of 2016's biggest thrillers.
March also has a stack of unrelated and relatively random non-fiction titles that I'm excited about. Yassmin Abdel-Magied is an extraordinary young woman and her memoir Yassmin's Story (PRH) is going to be a breath of fresh air in a year that's already shaping up to be just as challenging as 2015. There's no Australian publisher for At the Existentialist Cafe by Sarah Bakewell, which doesn't surprise me, but existential philosophy is one of my favourite things in the world and I can't wait to read this one. That Sugar Book was massive last year and the follow-up That Sugar Guide is highly anticipated. March is a good month to be a reading feminist books. A 40th anniversary edition of the powerhouse feminist book Damned Whores and God's Police: The Colonisation of Women in Australia is being released by New South, and HarperCollins are publishing We, an inspiring manifesto for change, by Gillian Anderson and Jennifer Nadel. Finally, in what could be one of the biggest non-fiction books of 2016, Pan Macmillan is publishing a biography of Leonard Nimoy called Leonard and it's written by William Shatner.
So that's January-March and I'm already at 1500 words, and I think I'll cut it here for now. April and May are huge months, and I don't want these posts to be so long that they get dull. You can find part two here.